Join us on Tuesday June 11 to rally for smaller classes!
This T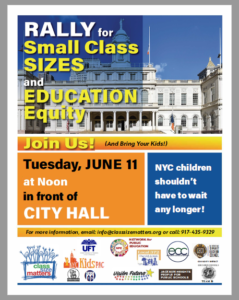 uesday June 11 at 12 noon at City Hall, NYC Kids PAC is  co-sponsoring a rally to urge the city to allocate funding in next year's budget towards reducing class size; come and bring your kids. Here is an updated flyer with loads of co-sponsors, including Class Size Matters, UFT, Local 372, the Education Council Consortium, several CECs and others. Please share it with others.
Please also join us in social media advocacy, tweeting Sunday and Monday to invite your Council Members to attend the rally and support our initiative. Tuesday is the rally, followed by Wed. and Thursday with calls to the Mayor and the Speaker. Full instructions including how to sign up for Twitter are here. If you haven't yet used Twitter please do! It takes only five minutes to sign up and is the easiest way to express your views.
Hope to see you Tuesday at the rally! And please start tweeting today!
Naila, Isaac, Fatima, Leonie, Eduardo, Margaret, Andy, Brooke, Karen, Shino and Tesa